If you want to get the best results for your pay-per-click budget, then you should work with a Google Partner Agency. A Google Partner will be able to deliver you excellent results to stretch your budget further.
This blog will outline the benefits of using a Google Partner Agency, such as blue bee, to get the best out of your advertising spend.
What is a Google Partner Agency?
When you are looking at digital marketing agencies, most will share their various credentials which validate their work. One thing you want to look for is a Google Partner badge. This indicates a company is an accredited Google Partner.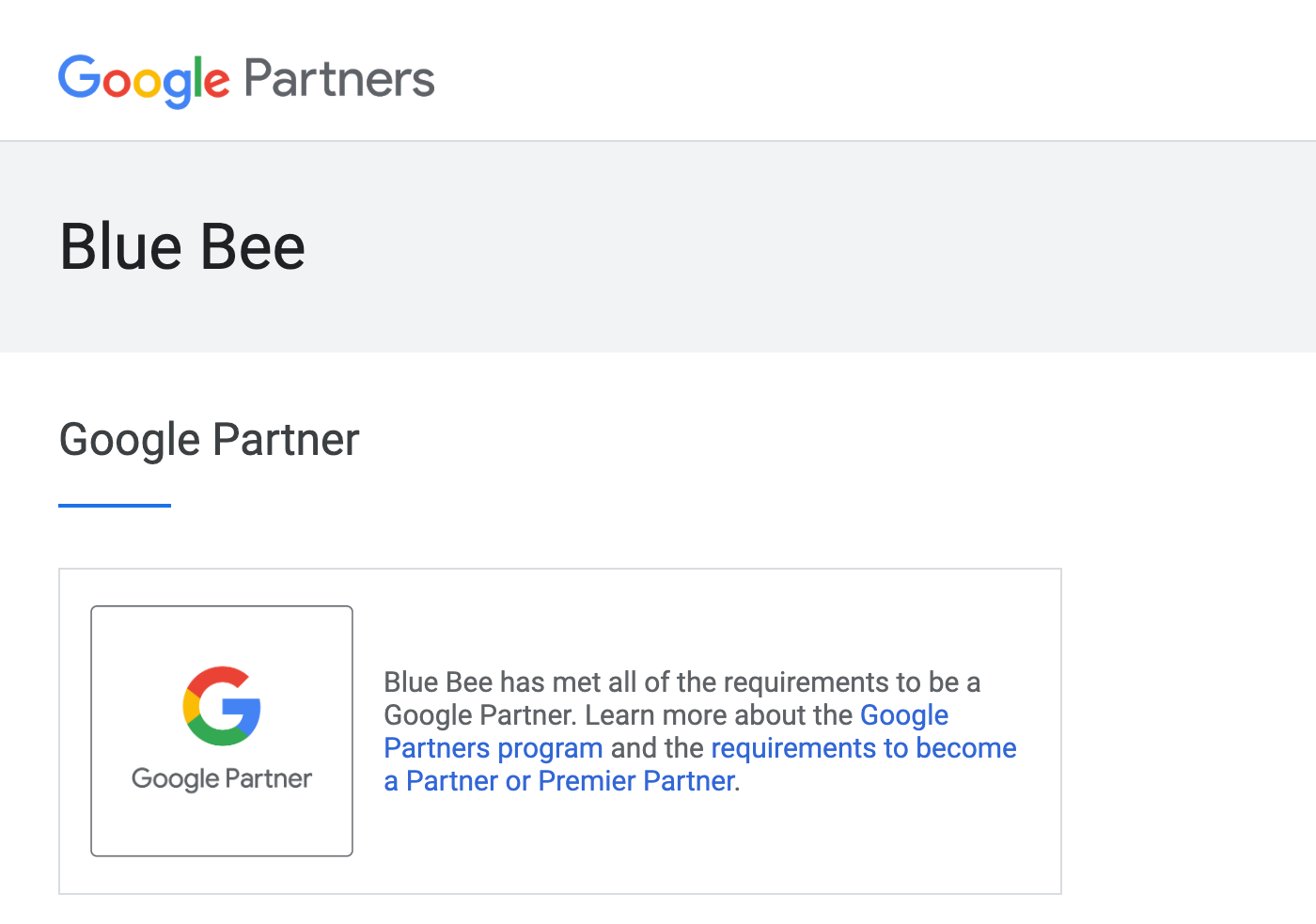 So, the accreditations look good, but what does being a Google Partner entail?
Put simply, a Google Partner means that the agency in question is an expert in Google Ads. Google Ads is the service used for pay-per-click (PPC) advertising. These are paid advertisements that appear in Google search results and they are a great way to draw in new leads and conversions for your business.
Once an agency is an expert in Google Ads, it can take the necessary exams to become a partner.
When you are looking to outsource your digital marketing, you want to work with an agency that is best for your business and will help you get results with your campaigns. You should look to them as more of an extension of your existing marketing team. When you partner with a digital marketing agency that is a Google Partner, you get the best.
Google Partner agencies will have passed Google Ads product certification exams, and they stay up to date with the latest product information, so you don't have to.
These agencies are required to go through training and pass Google Ads product certification exams. This certifies that a digital marketing agency has the knowledge required to provide their clients with the best Google Ads service. Not only do they have to pass exams, but partner agencies must also demonstrate that they utilise clients' budgets and meet strict optimisation criteria for every campaign they look after.
A Google Partner can be certified in numerous types of advertising including search, mobile, video, shopping, and display advertising.
Here are five reasons why you should choose a Google Partner
Google Partners are required to stay up to date with all Google Ads changes, meaning you will always get the best from your PPC campaigns.
Google Partners work directly with Google, so when a new product launches, Google Partners can trial them first.
You know Google Partners are experts in their field because Google requires them to be. Individuals must take many exams each year to stay accredited.
Your budget is in good hands as Google Partners must meet strict criteria. As well as passing exams, Google Partner accounts must also prove to Google they can be trusted with large budgets and keep accounts well optimised.
If there are any issues with an account, Google Partners have a direct line in to Google to get issues resolved quickly.
If you would like to discuss your PPC requirements with a Google Partner agency, contact us today.