Bespoke website for outdoor fitness company
When the UK's fastest growing Bootcamp approached us to design a bespoke new website for them we jumped at the chance! With over 30 fitness camps we had our work cut out to represent each location.
Bootcamp UK's target market is – but not limited to – 25-45 year old females who prefer a social environment to keep fit over the indoor gym setting.
With an exciting possibility of franchises opening in the USA we also explored how the site would work for an American audience ensuring the design was appropriate for both.

Brand awareness
As Bootcamp UK had a logo that was to remain unchanged we created a look and feel for the website with this style firmly in mind, allowing both their new website and logo work in harmony and strengthening brand awareness.
As Bootcamp UK have an ever-growing number of camp locations it was important for us to streamline the process of finding and selecting locations for the user. It was also important for us to consider the information the user would require and a simple method of booking.
Call to actions promoting Bootcamp UK's initial offer needed to be clear and functional to increase conversions on the site allowing Bootcamp UK to continue its growth.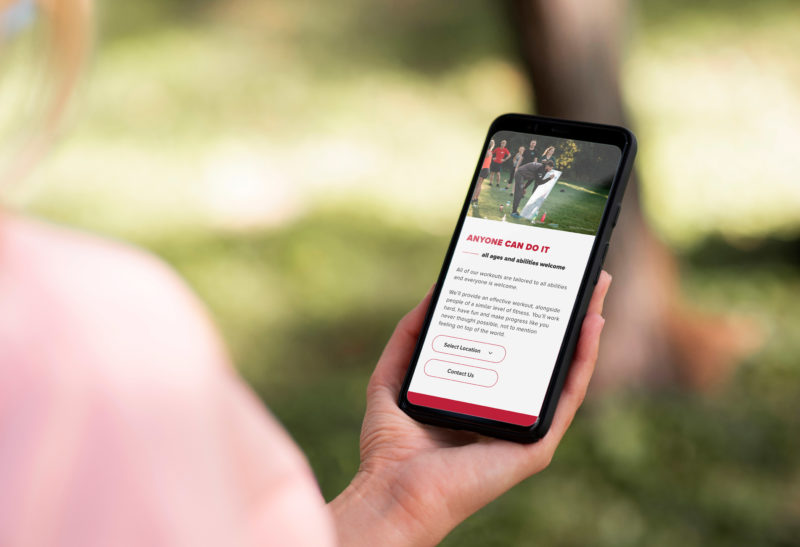 An inclusive training environment
There are many barriers to fitness, therefore inclusivity is crucial in getting people involved in working together providing people with a safe space to train. Considering this we worked hard to ensure the correct tone of voice was being used through design choices, with particular attention being made to typography, imagery and colour to reflect this across the site.
How blue bee can help
If you are in need of a new website, or want to take a new approach to your marketing strategy for 2021, or even if you are a new business starting out on your journey and want to create a bespoke website for your business – contact the blue bee team today to discuss your requirements and get a quote. You can call us on 01722 775500 or you can email us at [email protected].