Organic
Organic social media is any content that is posted for free, be it posts, photos, videos or stories.
These organic posts are shared with your followers, your followers' followers (if shared or engaged with), people following hashtags used within the post or people who are viewing your social media account.
Pros:
It's FREE (except for the time investment to create and post your content)
You can build and nurture your community. Build brand loyalty – retain existing customers and convert them into loyal, returning customers
Share your business values and story – face of your brand. Convert new customers
Educate, entertain, inspire – content of value
Support customers with customer service
Encourages user-generated content (UGC)
Cons:
Not all of your followers will see organic posts (due to algorithms)
Paid
You can pay to have your content shared and seen by more people on social media. There are different types of paid social media posts and placements of ads.
You can pay to 'boost' posts on your profile or create ads that appear on the newsfeeds of not only people who follow your page, but also others that you specify in your selected audience reach. Social platforms offer targeting options (like geographic, location, age, gender, interests), allowing you to reach your target audience, or lookalike audience based on the information that the social media channel knows about your followers.
You can also use a method of advertising called 'retargeting' too. This shows ads to people who have already shown an interest in your business – for example, by visiting your website. In order to track this, you can generate a piece of code from your Facebook business account (Pixel) or LinkedIn advertising account (Insight Tag), which gets embedded into the back end of your website and tracks social media visitors that visit your site. The latest Apple iOS update does, however, restrict some Apple users from being picked up by these coded measuring tools, as the feature is treated like a 'cookie' on your browser.
Alternatively, you can measure the performance of your ads by ensuring that you use a specific tracking link within your advertising campaign so that you can account for specifically driven traffic in your Google Analytics data.
Pros:
Raise brand awareness
Attract new followers
Promote temporary offers/new events/deals
Generate leads
Drive conversions (like e-commerce sales)
Reach more people
Set a budget that you choose starting at just £2 per day
You can flexibly stop and start ad campaigns whenever your budget allows
Cons:
You have to pay
Not all remarketing ads can be tracked due to Apple iOS updates to exclude cookies
You need some technical knowledge to set up and run the ads (though training with a Facebook agent is available should you wish to manage these yourself)
You must keep track of your ads and measure the results to see how well they are working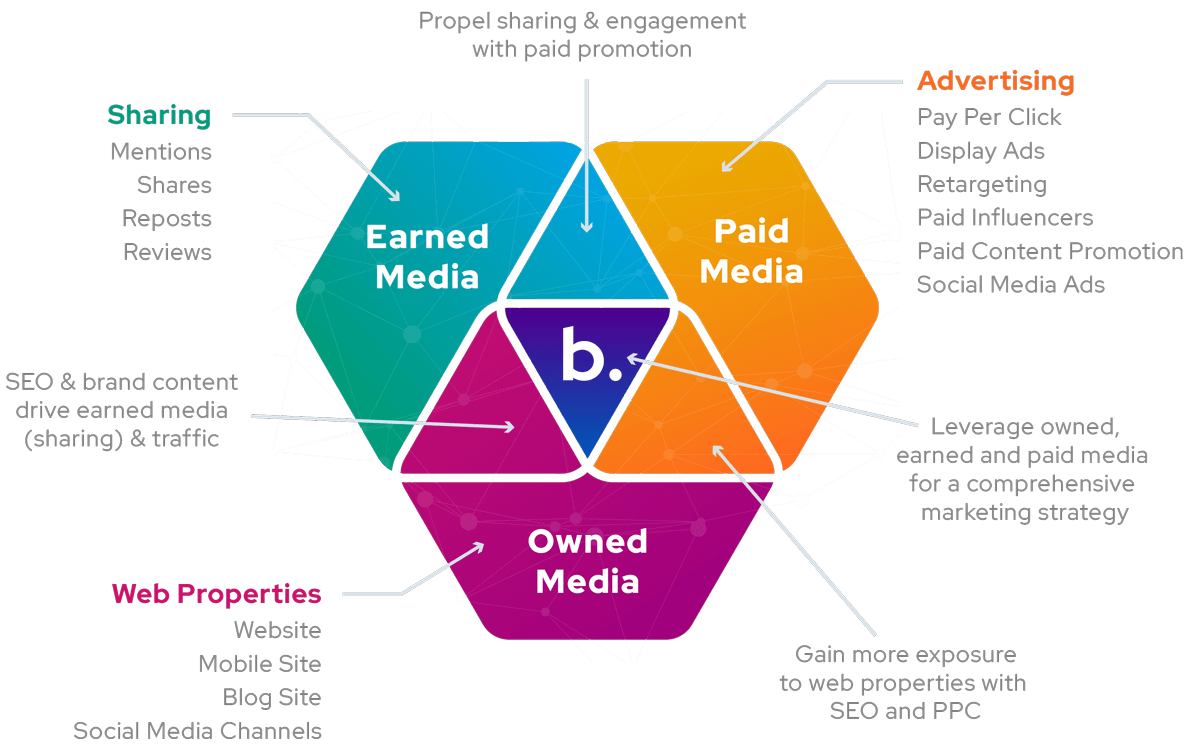 Conclusion
Harness the power of both. Use organic social media to share your brand identity, engage with your audience, share content of value, and nurture your community. By posting a range of engaging content that is relevant to your business and shows that you are more than just a sales team, helps you to build trust with your followers and turn them into customers.
Use paid posts and build campaigns to promote offers, giveaways, things that will convert people/encourage them to follow you. Use your audience targeting and overcome algorithm restrictions to reconnect with interested parties.
For the best results, a mixture of using both organic and paid social media across a range of appropriate platforms for your business, is the best way to gain social media success.
Need some help understanding your social media marketing? The Blue Bee team have years of experience of managing paid digital ad campaigns and getting creative with content marketing. Get in touch to discuss your business requirements.