Each year, the Pantone Color Institute selects their colour of the year. This is big news in the world of colour! The prestigious title is selected by trend analysis and combing the world for new influences in places like film, entertainment, fashion and new artists. The Color of the Year has run for the past 23 years, with last year seeing two colours, 'Ultimate Gray' and 'Illuminating' a shade of yellow, being named the 2021 Color of the Year.

The Pantone Color of the Year 2022
This year, PANTONE 17-3938 Very Peri was announced as the coveted Color of the Year. Pantone state that this particular colour "displays a spritely, joyous attitude and dynamic presence that encourages courageous creativity and imaginative expressions", according to Executive Director of The Pantone Color Institute, Leatrice Eiseman. The colour itself is described as 'encompassing the qualities of blues and also possessing red undertones'. You can find it with hex code #6667ab.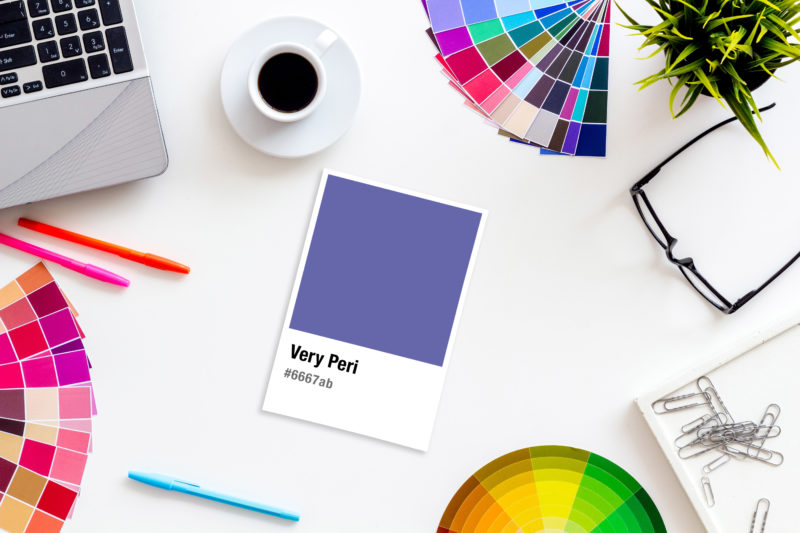 What does this year's Color of the Year mean for the world of design?
In previous years, The Color of the Year has influenced product development, purchasing decisions across multiples industries, fashion trends, interior design, as well as graphic design and packaging.
Pantone itself have predicted that after periods of isolation, digital worlds will now be more predominant with the increasing popularity of gaming and online platforms, they see a new world of colour possibilities being created that will leak into the physical world. They believe that this year's colour, PANTONE 17-3938 Very Peri helps us embrace the new landscapes that have formed and that "Very Peri exudes a good-natured warmth that quickly engages the eye, making it an ideal shade for many applications of graphic and multimedia design as well as packaging".
How blue bee can help
If you're looking at a logo refresh or rebranding, contact the blue bee team to discuss using the Pantone Color of the Year (or any colour you wish) to discuss your requirements and get a quote. You can call us on 01722 775500 or you can email us at [email protected].