You don't need to completely reinvent the wheel to keep your logo fresh and modern, you can keep your brand identity whilst bringing your logo into the 21st Century with the right design company.
Don't reinvent the wheel
As experts in graphic design, we understand the importance of keeping your brand easily and instantly recognisable. We also know that when you already have an established logo it may be hard to take that step to update it without the fear of losing what makes you stand out. A lot of people worry that 'brand update' means completely changing your logo and brand image when that isn't always the case. That is where we step in. We can take what you have currently and give it a 'lick of fresh paint' so to speak, keeping the design and key elements the same but using our expertise to simplify and modernise your company. 
Less is more, even with logos
As Coco Chanel once said; "Before you leave the house, look in the mirror and take one thing off". Whilst she was talking about accessories, the same can be said about branding. Years ago, it was common to see logo's full of as much colour and detail as you can possibly get into the limited space. Cut to now, where modern logos are a lot simpler and even sometimes just nice typography goes a long way. This leaves a lot of brands feeling outdated and left behind. Technology has also come a long way since then, meaning there's a lot more opportunity to have a high quality, vectorised logo that doesn't appear pixeled on screen or in print.
A prime example
One of Blue Bee's valued clients came across this issue recently and tasked us with the job of updating their brand without losing a lot of the key elements. The Design Review Panel company is already widely known in the Salisbury and Wiltshire area and they didn't want to lose their distinctive style, however, understood it looked a little out of date as well as not having high-quality files to use for future marketing. The old logo had a lot of different styles to it, from the abstract shaped buildings to the transparent trees to the multitude of colours used throughout in both solid and gradient shading.
What we did, was keep the positioning and different styles to the buildings but modernised them with more solid shapes. We kept the vibrant colours for the buildings but simplified the number of shades being used, as well as moving to solid colours rather than gradients as this is a little outdated. We then simplified the tree and hill styles to compliment the buildings and encapsulated the design in a circular shape whilst letting the buildings overlap at the top to give the whole design a bit more life and excitement. We then supplied the logo to the client in a variety of colour formats and file types so they would have everything they need to use the logo themselves moving forwards.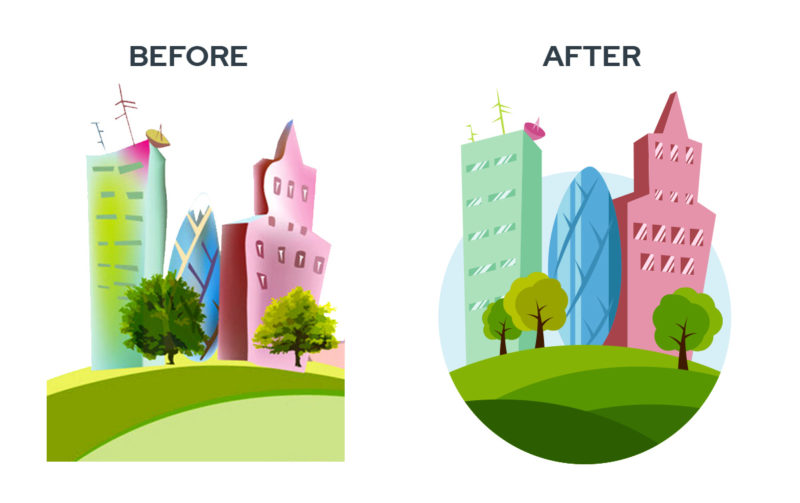 Take it one step at a time
Simplifying your logo isn't a new concept, you can see the bigger companies such as Nike and Apple have been doing it throughout the years. The key thing to remember is you can take it one step at a time, you don't have to rush into anything. The biggest example we see out there is the Apple logo, the concept for the brand has stayed the same throughout the years with them making small and subtle updates when necessary. They keep the iconic apple symbol the same and amend colours and sizing of certain elements, so the logo is never jarringly different.
Your next steps
Before you talk to an agency, there are some steps you can take beforehand to make sure you know what you're after.
Set your brand goals. Make a list of what you want to achieve with this refresh, what you want to change or what you want to keep the same.
Decide on a colour palette. If your logo right now has too many colours to count, take a step back and decide on some key colours you want to keep and make prominent for the rest of your marketing materials.
Do some research. Take a look at your competitors and companies you admire, see what they are doing with their logo and take notes of anything you like the look of.
Trust the designers. Whilst letting go of the reigns can be hard, trust the process and let the agency help guide you to what would work best.
Don't be afraid to speak up. That being said, if you strongly disagree with a design, don't be afraid to let us know as we want to make sure you're happy with the final product and don't change your mind a few months down the line.
Finally, if you would like help refreshing your company logo, contact Blue Bee Solutions today to find out more,