Eco Pond
E-commerce for eco-friendly pond products
Eco Pond is one of the UK's leading developers, manufacturers and retailers of a range of environmentally-friendly pond and water feature products. All Ecopond products are made in the UK to ensure high standards, and sustainability is at the forefront of their company ethos.
Eco Pond wanted to capitalise on their recent business growth with a new e-commerce website to sell their products to consumers online. They needed a secure, modern and clean website design with bespoke functionality and easy content management.
Ecopond project overview
Eco Pond needed a website that brought their shop to the fore, making it quick and easy to purchase their eco-friendly products on a website built to optimise user experience.
We created a website with multiple navigations to create a seamless user journey around the site. User experience concludes with a simple checkout process, making it easy for users to add products to their basket and complete the conversion with ease.
Eco Pond's website is completely content manageable and allows the client to edit and add content easily. With multiple user access and easy management options, the client can update their site with new pages or content without any knowledge of code required.
What we delivered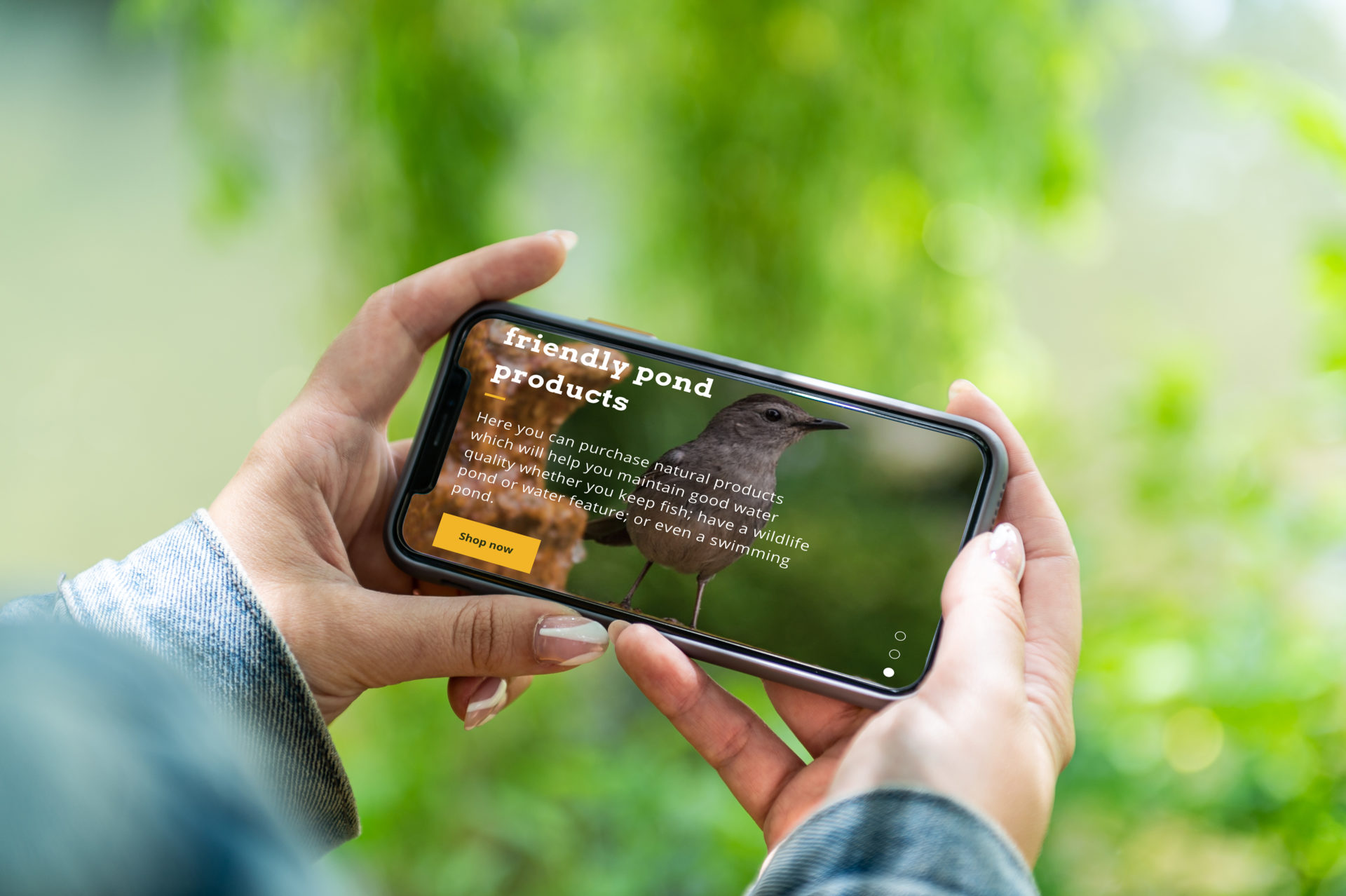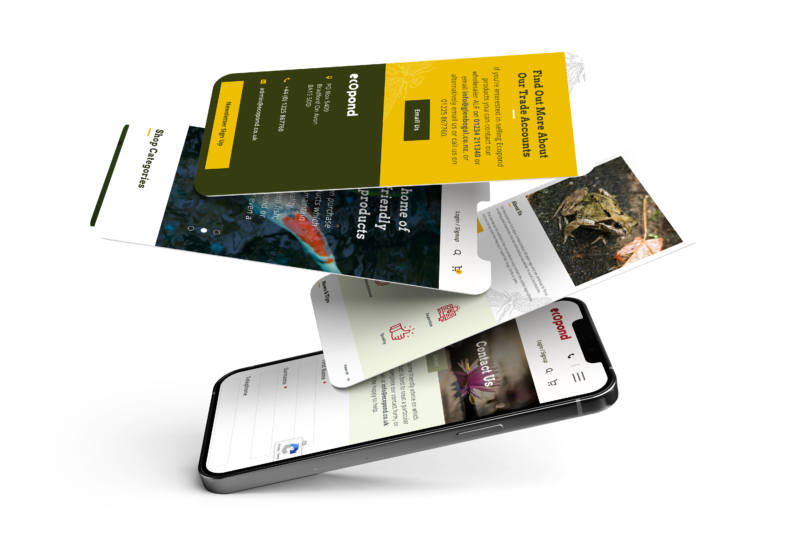 Aligning website design with nature
The blue bee team designed a website that reflects Eco Pond's core values of sustainability and working in harmony with nature. Inspired by the UK's ecosystem, the design uses natural, earthy colours and includes stylised water elements to reflect the core nature of the business.
The classic, clean design is easy to navigate and visually appealing for the client's audience. Clear call-to-actions direct customers around the website.
Website banners, in a muted shade of earth green and rustic mustard yellow, feature watermarks of wildlife to tie in the environment with each area of the website.
Custom built website functionality
Our web development team built the website with bespoke functionality to fulfil Eco Pond's individual requests. This included a custom-built JavaScript calculator to allow users to calculate the amount of water in their pond and therefore how much product they need to treat it.
We also added a powerful search engine plugin to allow users to search the website's content and product catalogue to find it quickly.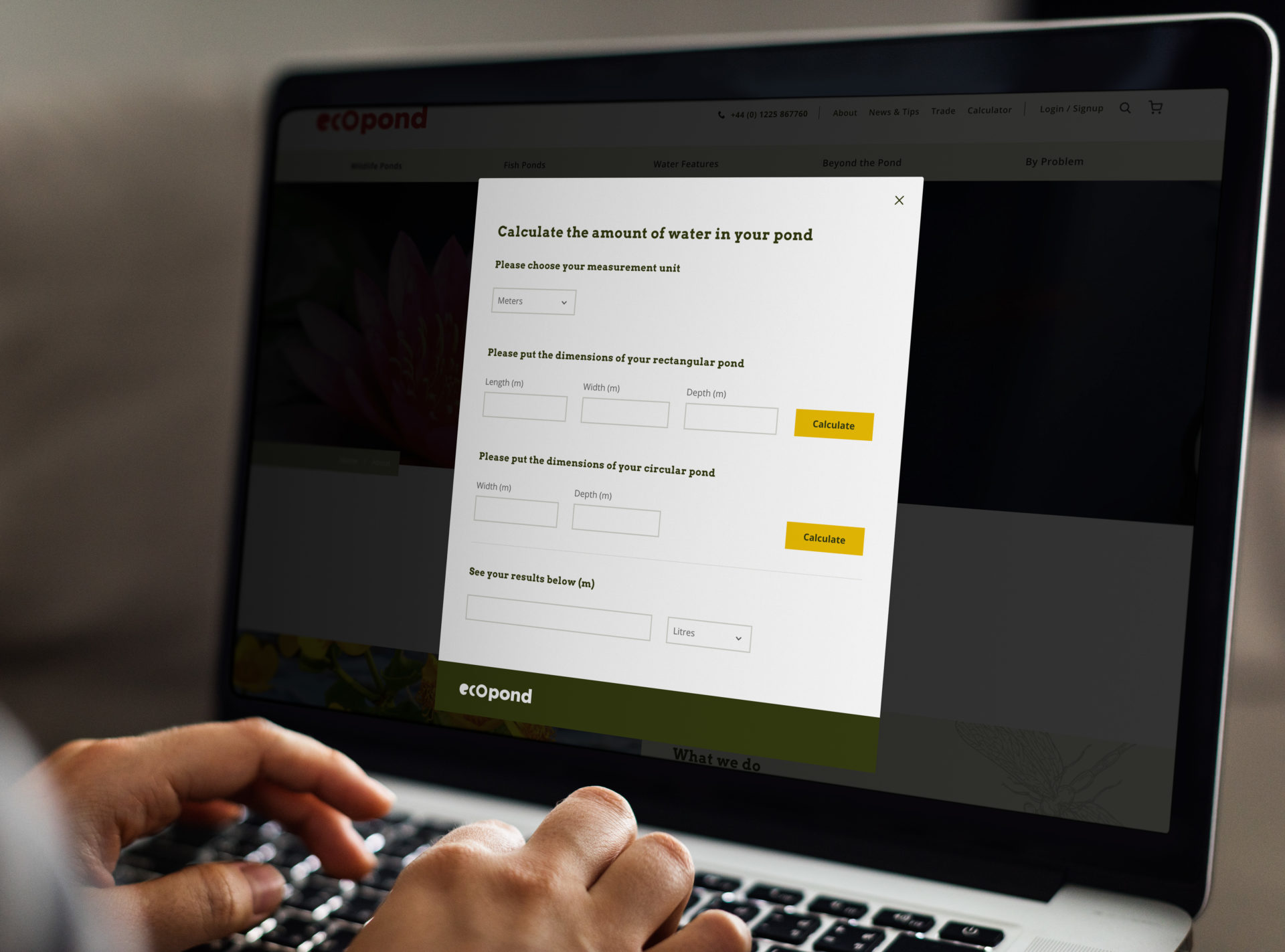 Examples of what we did