Bond Dental Clinic
Meeting the new highest safety standards in specialist dentistry
Bond Dental Clinic is a new dental practice in the centre of Salisbury. With an experienced team providing a range of multi-disciplinary dental specialist services and general dentistry with an aim to work with local dentists and patients to enhance patient care and to offer a full range of services to our community.
Patients should not have to feel anxious about a visit to their dentist, especially during current times. This is why the clinic was designed to provide the highest safety standards concerning COVID19, including a hospital grade ventilation system that provides 20 air exchanges per hour and an air filtration unit.
Bond Dental Clinic Overview
Bond Dental Clinic were looking to create a modern brand identity for the upcoming opening of their new dental practice in the heart of Salisbury. Our challenge was to have the logo reflect their companies ethos of being clean and of high quality, as their practice has been made to the highest standard amongst the COVID19 concerns.
What we delivered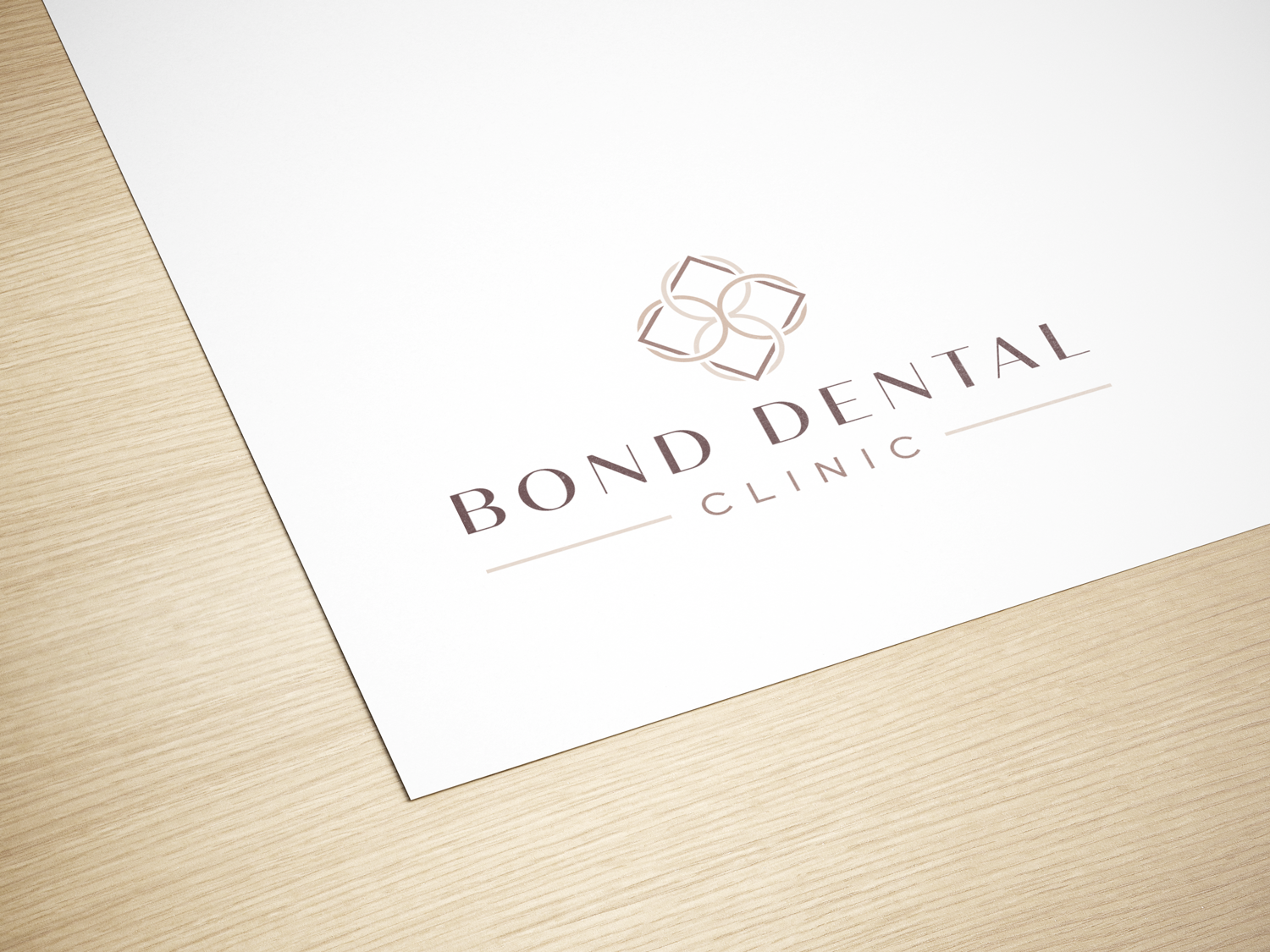 Clean but not clinical
When Bond Dental Clinic came to Blue Bee looking for help with their new company identity under a tight deadline, we were more than happy to sink our teeth into the challenge. As they were launching their new practice within the next few months, we needed to kick off the project as soon as possible and sit down safely with the client to run through their company ethos and values. The outcome of the meeting was to produce a brand that was simple yet modern, clean but not too clinical, pleasing to look at and easy to read.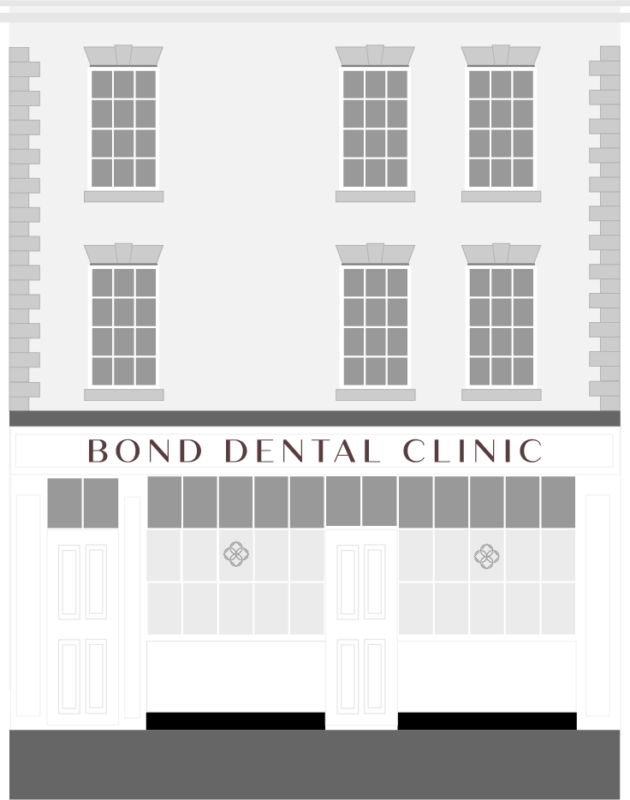 Cohesive logo elements
Keeping all of this information in mind the design team went away and brainstormed to create the initial ideas and develop them further alongside the client, working together as a well-oiled machine. The outcome of our teamwork was a striking logo that is easy to read with an icon that plays with symmetry and depth to create a unique aesthetically pleasing brand, with connotations of teamwork and precision due to the interweaving circular shapes.
The chosen font and icon were unique styles that work both together as a logo element but can also be used in separation from each other and still look cohesive as a brand. A good example of this was the shop front window and signage we were tasked with designing. As there was limited space, we separated the text from the icon and created a typography sign and brought the icon in as window frosting.
Complete brand package
After completing the logo design, we created a customised brand package for Bond Dental Clinic so they would have everything they need for a successful business launch. This included; business cards, compliment slips, letterheads, email footer design and social media banners.
The benefits of getting all of these brand identity elements designed under one roof is that we already understand the company feel and image that is wanting to be presented to the rest of the world. Having worked with Bond Dental Clinic from the beginning we were able to creative a comprehensive package quickly and easily to meet their deadline whilst keeping every consistent across the board.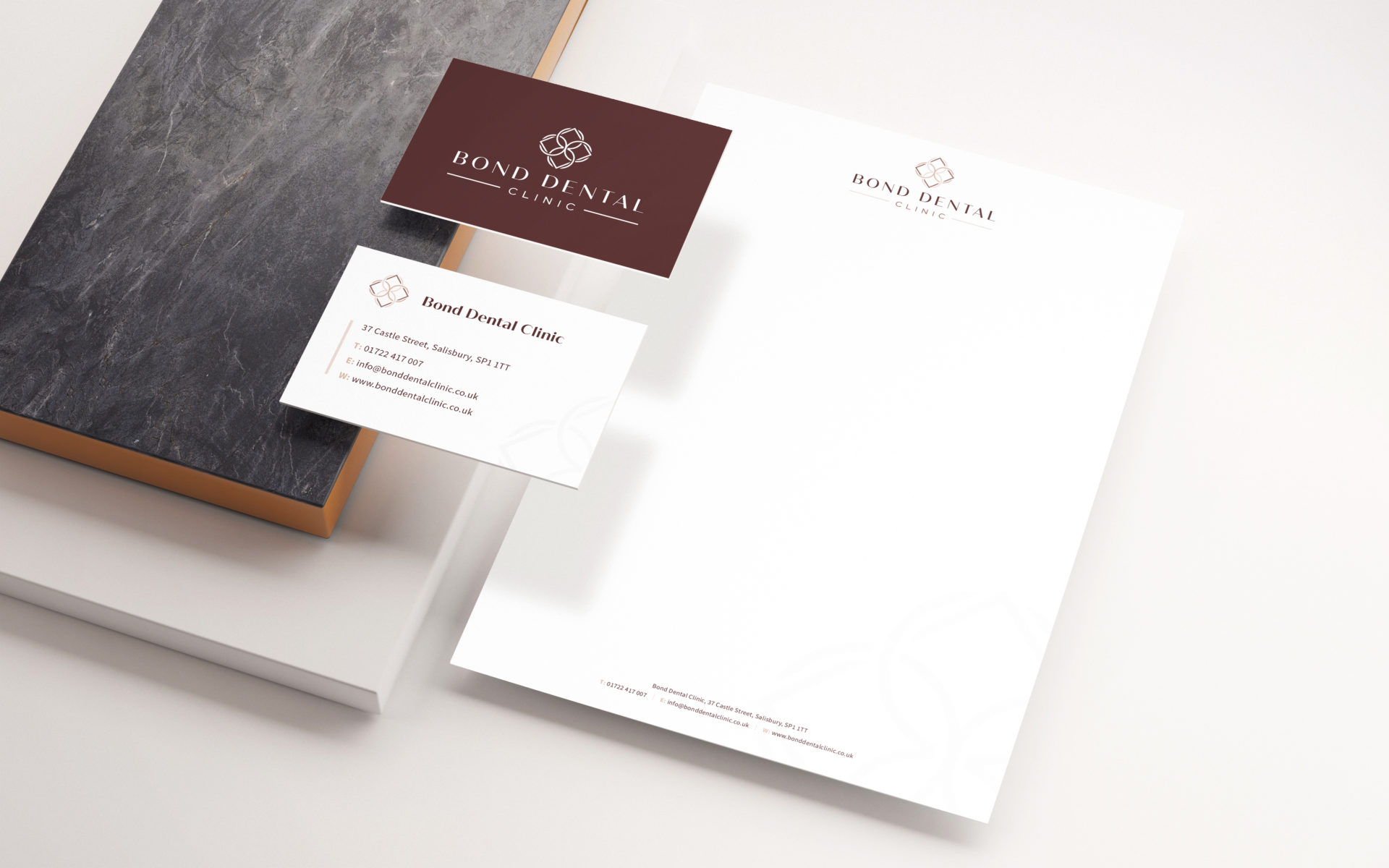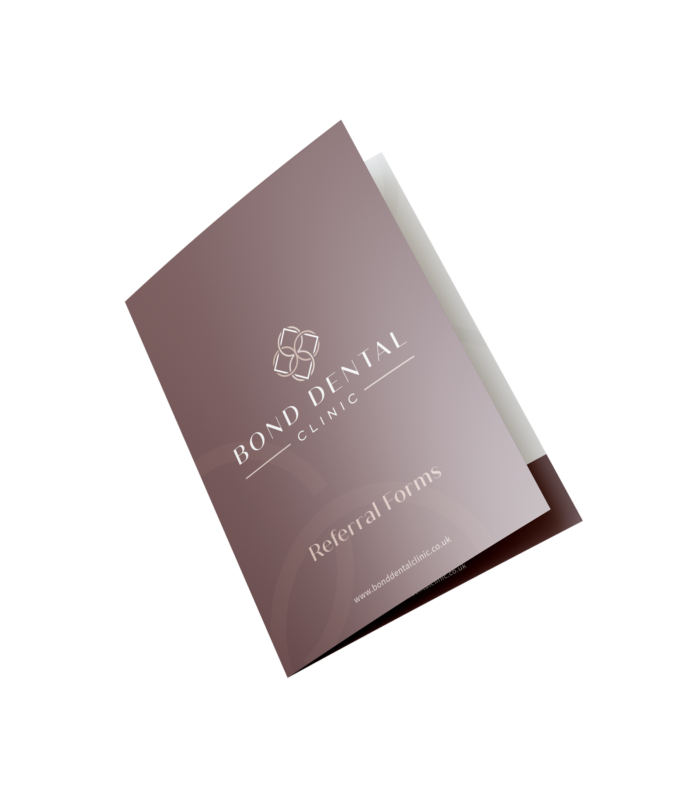 Bespoke referral pack
The last job in the project launch package was by far the most challenging yet fulfilling. After a few discussions with the client, we learnt they were after a unique referral form pack that they can give to dental practices that makes referring patients to Bond Dental Clinic as easy as possible, by having easy access to the referral forms as well as a list of the clinicians to see who would be best to refer to.
After discussing the concept with a partner print team of ours, we came to a solution that encompassed all of the above in a stylish and unique way. It includes a notepad of referral forms encompassed in a book style sleeve that is branding on the front and opens to the left revealing the clinicians with their biographies on the inner cover. This outside of the box thinking gives the referral forms more of a premium feel to them and keeps Bond Dental Clinic ahead of the time with their modern design.