Dignity Pet Crematorium
High-Functionality Website for Leading Pet Services Provider
Dignity Pet Crematorium are the top-rated pet service provider in the UK, offering a range of compassionate services and products for families experiencing the loss of a pet. In addition to their renowned cremation services, they also offer hundreds of sentimental products to help their clients say goodbye to furry family members.
Dignity needed an impressive new site with integrated shopping functionality to take the business to the next level and bring their family values to the fore.
The Project
blue bee created a whole new brand identity for Dignity Pet Crematorium, including a new logo, brand pack, printed marketing collateral and – most importantly – a new website. Their previous website lacked personality, ease of navigation and simple to manage e-commerce functionality.
To give the client a flawless online presence, we designed and built a bespoke WordPress website with WooCommerce functionality.
What we delivered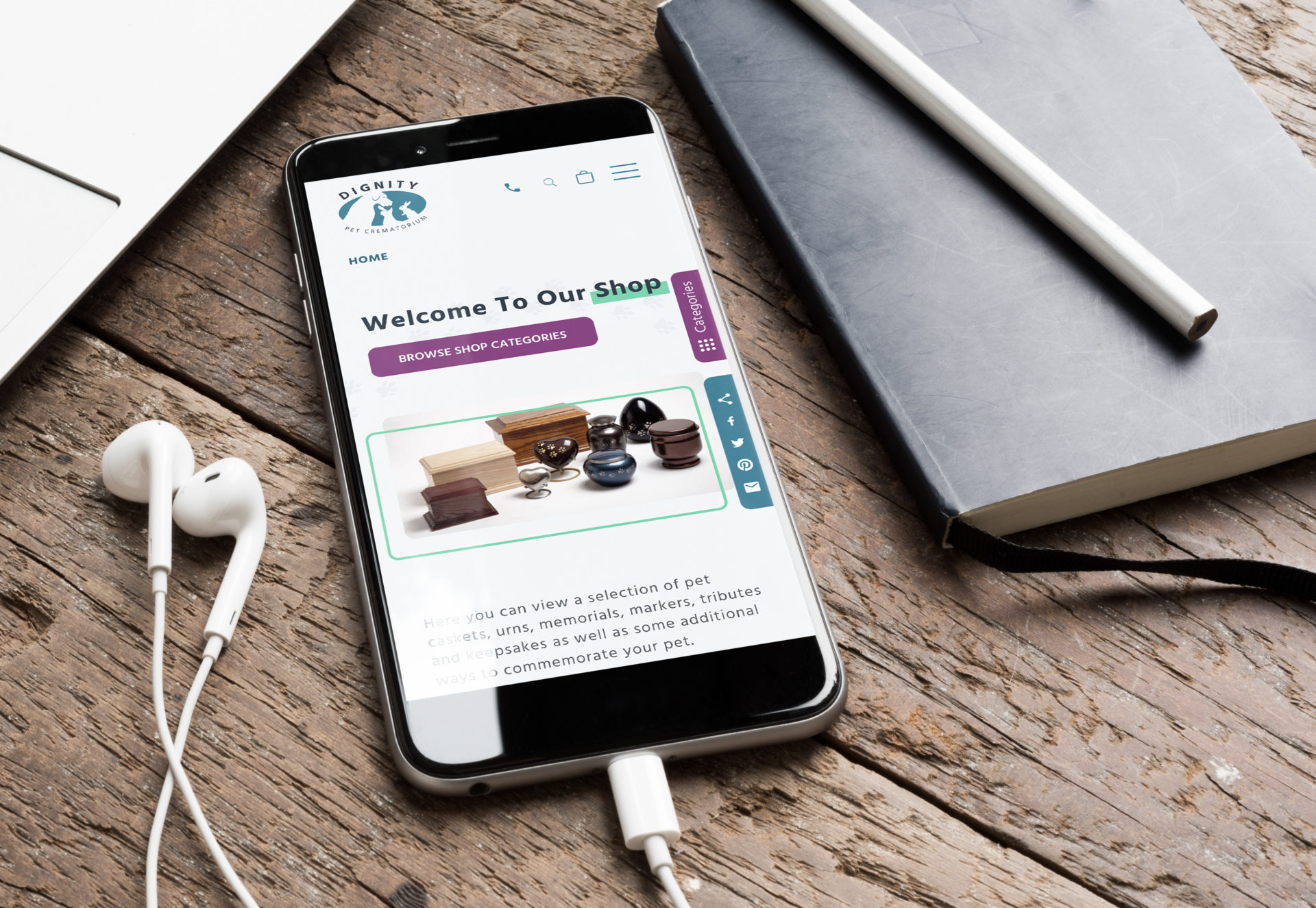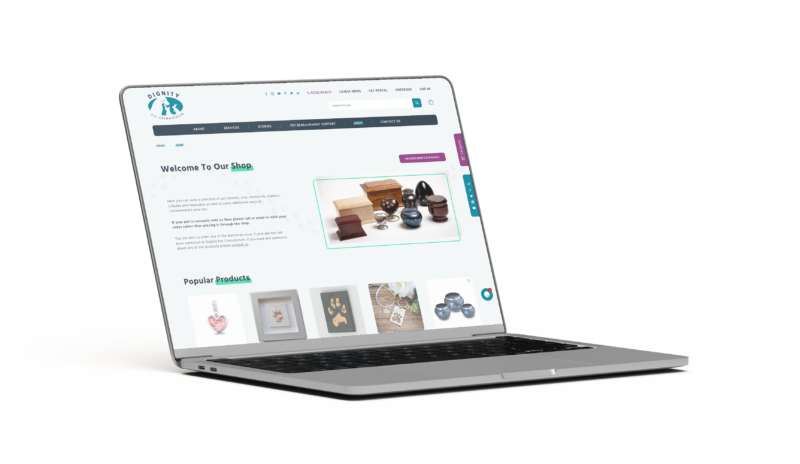 Flawless e-commerce functionality
Our developers built a WooCommerce shop into the website to allow Dignity to manage their vast range of products easily. The shop features custom product add-ons to allow customers to personalise purchases with colour, size, material and engraving options.
The e-commerce mega menu is highly customisable so that the Dignity team can add or remove products from the menu with ease. To make the checkout process easy, there are secure payment gateways to guide customers through the final stage of the sales funnel seamlessly.
Uplifting design to give visitors a warm welcome
Dignity requested a website with a bright, inviting and celebratory feel. The client wanted to uplift their grieving clients with a warm and soothing colour palette which celebrates rather than mourns the lives of departed pets.
Using colour theory, our Head of Design curated a colour palette for the brand that invokes feelings of calm, understanding, healing, peace and luxury. These colours are used in the logo and brand pack and formed the basis of the website design. The design reflects the family-oriented, pet-loving nature of the business with a warm feel and fun animal iconography.
The design focuses on an intuitive user journey, guiding users around the site and making it easy to find what they're looking for.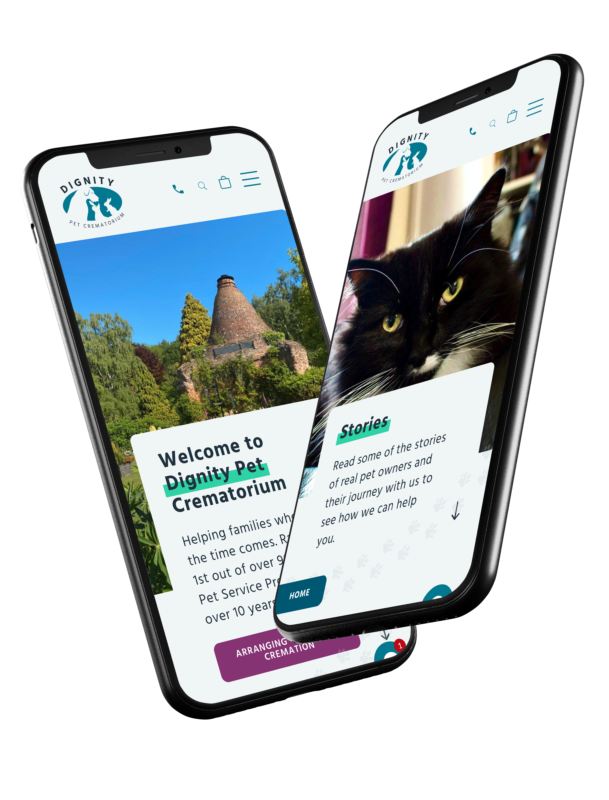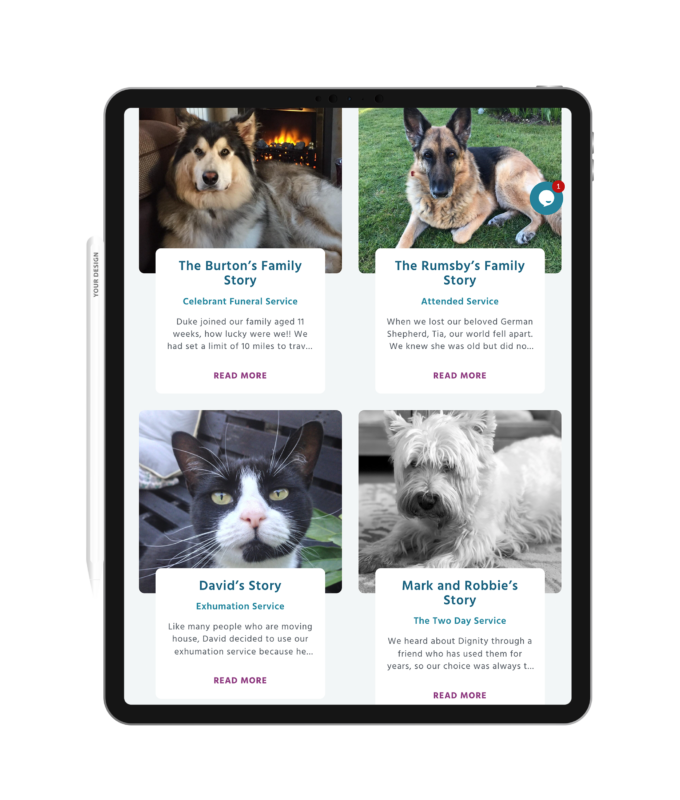 Bespoke functionality for a personalised experience
To reflect the highly personal nature of their business, we built several easy-to-edit bespoke functionalities into the site. There are large, responsive forms to meet all visitor needs – saving grieving customers from discussing personal details of their pet's cremation over the phone.
We also created a custom post template for the 'Stories' section that showcases the journeys of real pet owners with Dignity. Not only does this area highlight the sentimental service Dignity provide, but the regular, fresh content also serves to boost the website's SEO.
Examples of what we did