Salisbury Hospice Charity
Supporting end of life care in Salisbury
Salisbury Hospice Charity raises much-needed funds to help support over 1000 people per year that require care from Salisbury Hospice. It takes around £2.4 million per year to run the hospice each year to cover the costs of equipment, nursing, therapies, creative activities, emotional support, welfare advice, practical support, and medical care for those that require hospice services.
Some of the financial support needed to provide these essential services comes from the government, but the Salisbury Hospice Charity team are responsible for raising the other £1.5 million required to provide the care needed by patients and their families.
Salisbury Hospice Charity Website Overview
The Salisbury Hospice team approached Blue Bee in 2019 to re-evaluate their existing site which was out-dated and in need of a refresh.
The user journey of the old website was difficult to navigate at times and many prominent calls to action were getting lost in the complicated site map where new pages had been added over time. They needed a site with a more dynamic design which improved the user journey and made donating easier as well as finding information.
What we delivered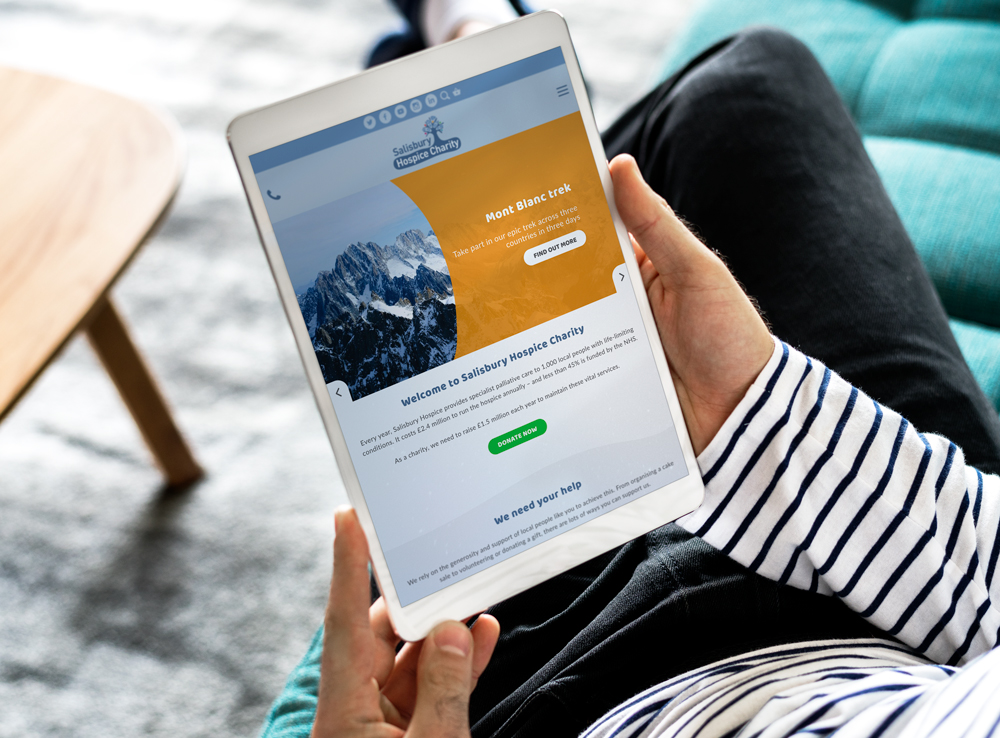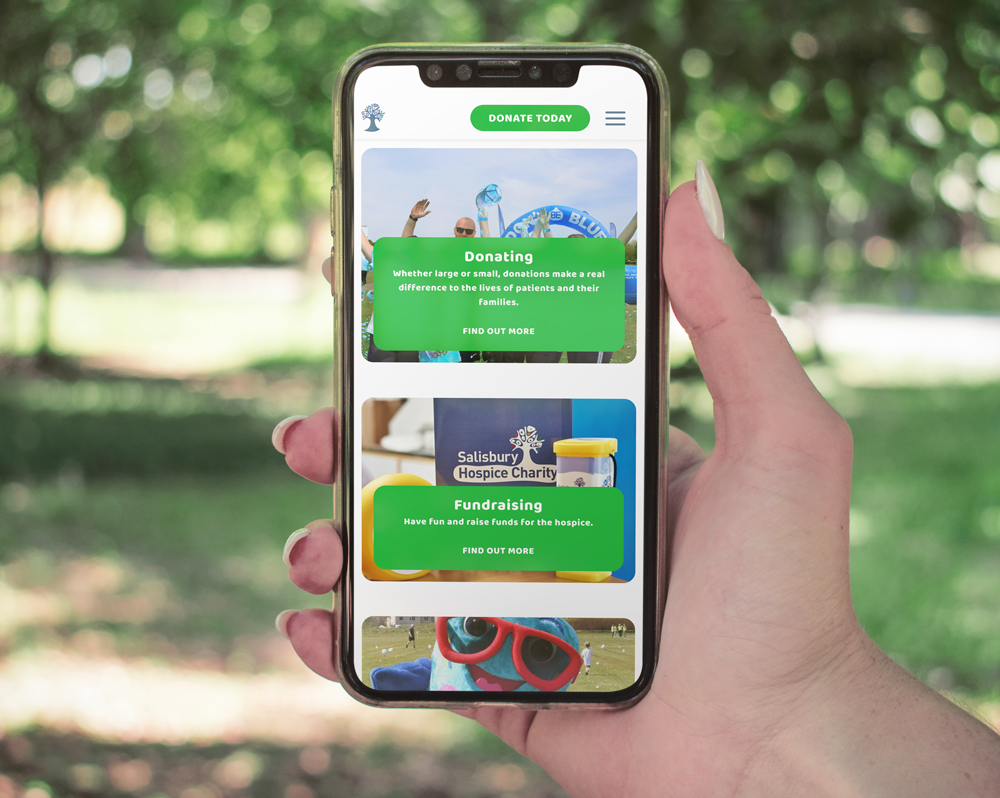 Our Approach
The team at Blue Bee have raised funds for the hospice in recent years, so we were already familiar with what they do. We were aware that Salisbury Hospice Charity were working on a budget, so we offered a full bespoke redesign, for the low cost of a smaller site at no extra charge to the charity so that they could have the website that they needed, without having to take funds away from the much needed services that the hospice provides to its patients.
We held a scoping meeting with the hospice team to plan goals for the site and discuss design must-have's that would give the new site longevity.
Improving the User Journey
UX is an important part of any website design. The hospice site had evolved over time and was no longer delivering an easy-to-use experience for site visitors, so we provided a new site map with innovative designs to make navigating the site much easier and allow visitors to make those all important donations more quickly and easily.
We optimised the site designs and content to allow people to find information that they need quickly and to improve the search optimisation for the site to make it easy to find online, without compromising the Hospice Charity's existing and recognisable brand identity.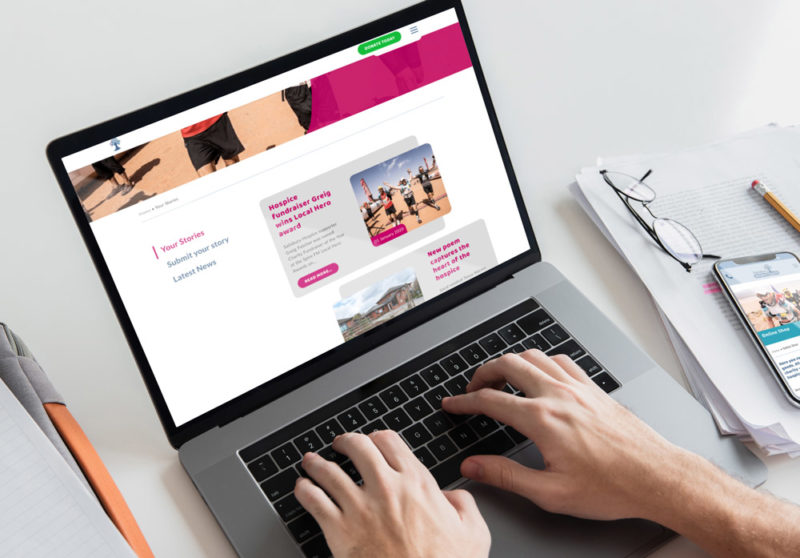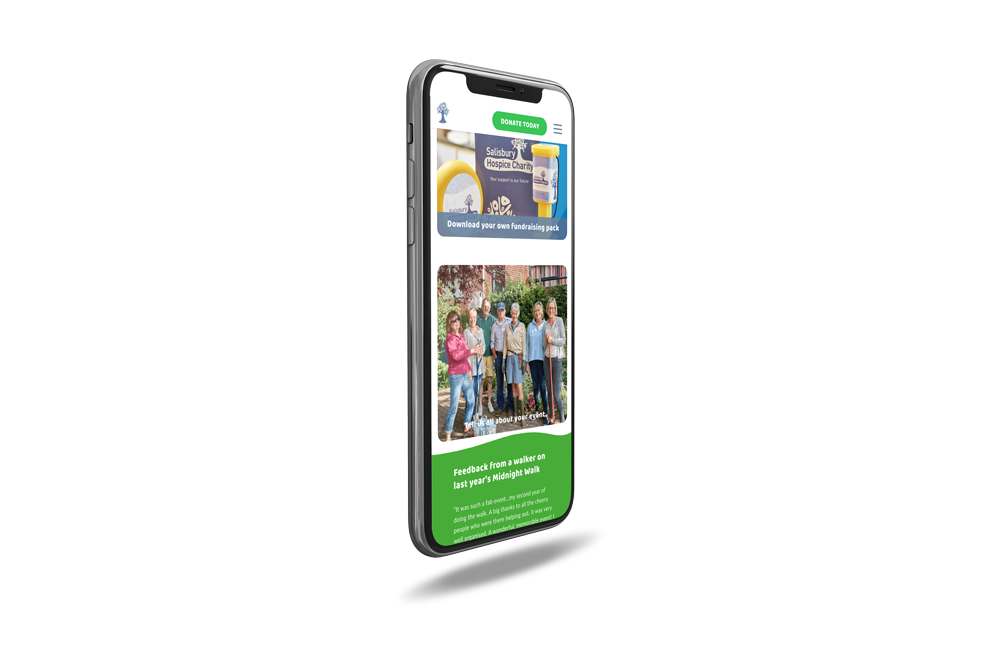 Bespoke Website Functionality
The new website allows visitors to make donations and find information on organising their own fundraising event easily. It showcases links to external sites for popular fundraising events that the Hospice Charity organise and a simplified menu to improve the navigation.
We utilised the vibrant colour palette from the existing branding to make the designs fun and colour code the various calls to action. You will notice that all buttons for fundraising are green, whilst event references are in red, patient stories referenced in pink and so on. We also included some interactive and animated features to improve the user experience such as animated figures on how many people the hospice helps each year, fun hover states that utilise brand colours and social media integration with a live Instagram feed.
Website design