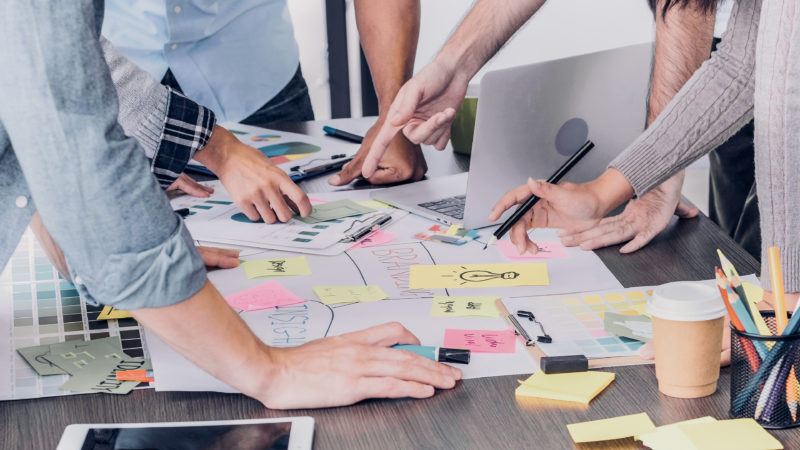 As internet users, we are (what can feel like) bombarded with digital ads for all sorts of products and services. This recent increase in the use of digital marketing, along with the trends in social media user behaviour and algorithms, has changed the way that we think about advertising.
Many of us have had an experience where we search for, for example, insurance, and then seem to be followed by insurance ads for what seems like weeks after our search. This is a common technique used by companies to help tailor their marketing and target possible leads to gain new customers using website cookies and keywords. It is an effective marketing strategy, but this combined with an increase in phony ads and online scams, often makes our audiences more sceptical about investing in a new product or service that they have not heard of before.
A way to tackle this issue as a business, is to implement 'social proofing' into your marketing strategy, to help build trust with your potential audiences.
What is Social Proofing?
Social proofing is the concept of using reliable marketing techniques to show proven, trusted results for your product or service, to build trust with your audience. In a nutshell, by having 'proof' that your company is legitimate and trusted by reputable sources, other new customers are likely to invest based on the evidence that they find to support their purchasing decision.
This could be in the form of testimonials and reviews from existing customers, influencers on social media who genuinely try and test products, strategic marketing material such as demonstration and explainer videos to reassure customers that you are genuine and that your products really work or in the form of professional reviews and recommendations in the press (PR).
Why Do I Need To 'Social Proof' My Business?
As online retail continues to grow, many of us have become 'internet savvy' when it comes to researching a product or service before we buy. As discussed above, this is a learned behaviour based on the way that online shopping has evolved and helps to reassure us of our purchasing decisions, avoiding problems later such as online scams or products not being delivered as described.
We live in a fast-paced world where your online presence could be the difference between making few sales and making loads of sales – if your online presence and social proofing is poor, you may lose customers to your competitors, before they have given your amazing products or services a chance.
How Can I Implement Social Proofing into My Marketing and Sales Strategy?
1. Perception
Start at the beginning. How does your company come across to your desired audience? If the overall perception and quality of your brand is not up to the high standards of your competitors, you could lose out on sales. Ask your audience for feedback, research your competitors and ask for professional advice to improve your branding to bring it into the 21st century if needed.
This includes your logo, branded materials such as flyers & brochures, shopfront (if you have one) and your website – plus any social media pages you are using. All your channels and communications should be consistent in terms of design, tone of voice and messaging.
2. Quality
What information or evidence do you use to prove that your product o service really works? You should invest in your USP (unique selling points) and provide all the information needed to help inform and influence your customer's buying decision.
3. Relatable Customer Service
Don't be a 'faceless' company. Put people at the heart of what you do and be sure to deliver high quality customer service at every stage of the user or customer journey. This includes having processes in place to answer enquiries, provide advice, help with purchasing online, and gathering customer feedback and following up after a customer has used your service. Feature your team in your marketing material so your customers know who you are and help to build relationships with customers so that they turn into your very own influencers and returning customers.
4. Reviews & Portfolio
By collecting feedback from your existing customers, you can build a portfolio of successful case studies and reviews, that will help to reassure future customers about your offering. You can do this in several ways:
Have an online portfolio on your website or a case studies page with stories about positive customer experiences with your company, products and services.
Link your website to your social media pages, where you can frequently post about recent customer experiences.
Be sure to ask your customers for reviews, in the form of TrustPilot, Google, TripAdvisor, CheckaTrade or whatever the prominent review tool is for your industry. Re-use these in your marketing material. You could even ask customers to record video reviews for you which you can use in your future campaigns.
Ask your customers to recommend you. Often, business owners are too shy to ask for reviews and recommendations but if you don't ask, you won't get! Don't be afraid to ask people for their feedback and to help you gain future business.
5. PR
Contact some local or national journalists about your business, to see if they are interested in testing or reviewing your product or service for an article which could be published online and in the media. By having a reputable professional review your business, or celebrity endorsement, you can increase trust levels with your audience, as if their idol believes in you, maybe they will consider investing too.
6. Marketing Advice
If you own a business and need help with your marketing strategy, branding or website development or content marketing – get in touch with the team at blue bee who have heaps of experience supporting businesses with all of the above. Make your campaigns work harder for you and get the most out of your sales strategy in 2022 and beyond. Call us on 01722 775500 or contact us via our website contact form so we can discuss a bespoke plan that works for you.