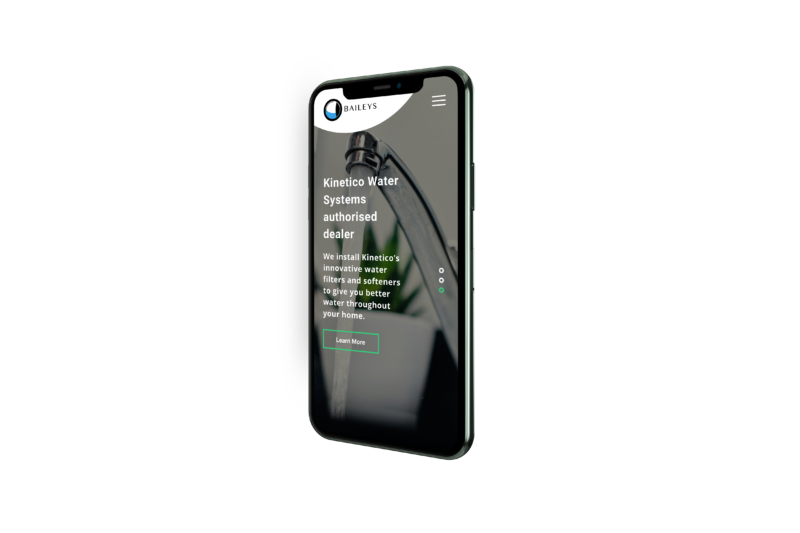 We were tasked with creating a new website for Salisbury-based family business, Baileys. Their main business focus had previously been white goods, but they have expanded into plumbing, heating and water filtering services.
To give the new Heating & Plumbing branch of the business a strong online presence of its own, we created a bespoke WordPress site complete with SEO-rich content and a clear user journey.
New sub-brand for an established local business
For the design of the website, the client wanted to follow the branding of the main business to an extent whilst making a clear differentiation between the two branches of Baileys. Our design team created a sub-brand for the new site, including hints of the original branding but with slight changes in colour scheme. Keeping with the blue of Baileys colour scheme, the site uses shades of navy with pops of vivid green to highlight call-to-actions.
The new website forms one cohesive brand identity with the original but with clear distinctions to highlight their different offerings.
Clear, simple user journey
The website provides a clear user journey that guides visitors around the site seamlessly. Boasting a clean, bright and modern design, the site directs users to the information they need with ease. There are bold call-to-actions to send customers to the contact page and encourage them to call the Baileys team directly from the site.
The site clearly showcases the services Bailey's Heating & Plumbing provide. The top navigation bar features all three services – plumbing, heating and water filters – and they are also linked to from the home page and footer to make them easily accessible on all user journeys.
Bespoke functionality on the site includes a sliding testimonial block and an editable contact form.
To chat about a new website for your business with the blue bee team, get in touch with us today.